Your Generous Support Makes a Difference

Each year, Ewam centers reach tens of thousands of people across the west and Asia through events, retreats, and administering pilgrimage sites that connects us to our communities and the world we live in. This rare and momentous work is made possible by the contributions of individuals who believe in the mission of Ewam: to cultivate spiritual awareness in the west and throughout the world—inspired by a deeper understanding of wisdom and compassion.
Supporting the Garden
For those who feel inspired to contribute to the vision of the Garden of One Thousand Buddhas, there are several ways to give:
One-Time and Recurring General Donation
You may make an easy, secure online contribution by clicking below, or mail a check made out to "Ewam Buddha Garden" and mail to: P.O. Box 330, Arlee, MT 59821. Ewam is a federally-registered 501c(3) non-profit organization. All donations within the U.S. are tax-deductible to the fullest extent allowed by law. Thank you, and may all beings benefit!
One-Time and Recurring General Support
There are many ways to offer general support to the Garden of One Thousand Buddhas. One way is to make a single, tax-deductible donation to support the most immediate needs of the Garden.  Those funds will be used for whatever the greatest needs are in the Garden at the time or you may specify a specific area for your contribution. Thank you for helping to grow this sacred pilgrimage site!
Tsog Sponsorships
Tsog sponsorships can be sent via PayPal. Please be sure to specify your donation is for a particular tsog sponsorship. You may also include dedication or aspiration prayers with your offering.
Webinars
If you have attended an online program such as a weekly or special event webinar and wish to make a donation, please do so below:
Please write a note in the payment form for which of the above categories you're donating toward.
Sponsor a Lungta Name Tag
Anyone can make a donation of $100 or more for the maintenance of the Buddha Garden and the prayer flag structure. This can serve as a dedication to revive and increase the longevity, merit, capability and life force for themselves or their friends and families, or for the purification of obscurations of ones who have passed on. Anyone interested in being a donor should donate before June 2022.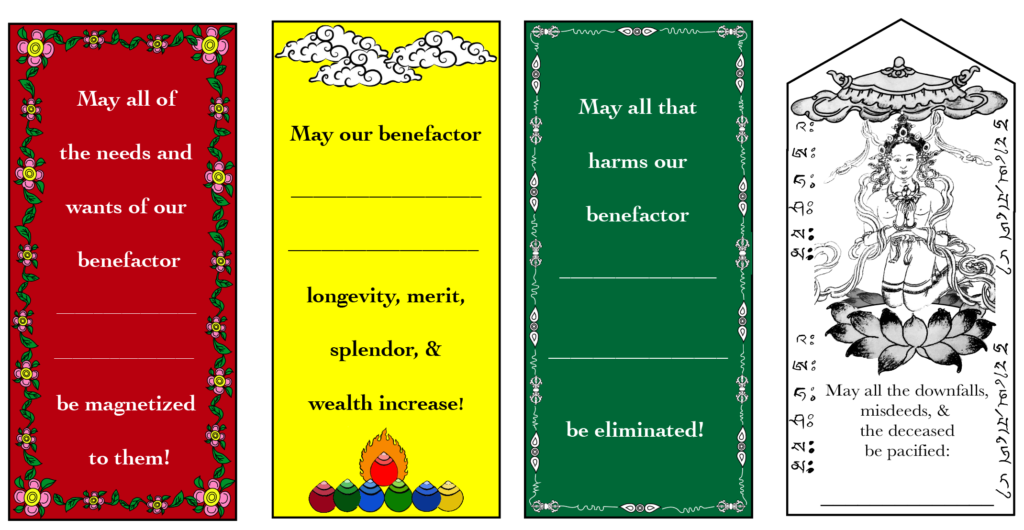 Donate a Prayer Flag
Garden of One Thousand Buddhas is currently accepting donations for prayer flags to hang on the new prayer flag structure. We will be hanging all sponsored prayer flags on every Guru Rinpoche Day. Sponsoring a prayer flag set is $25.00. Please consider donating to the cause.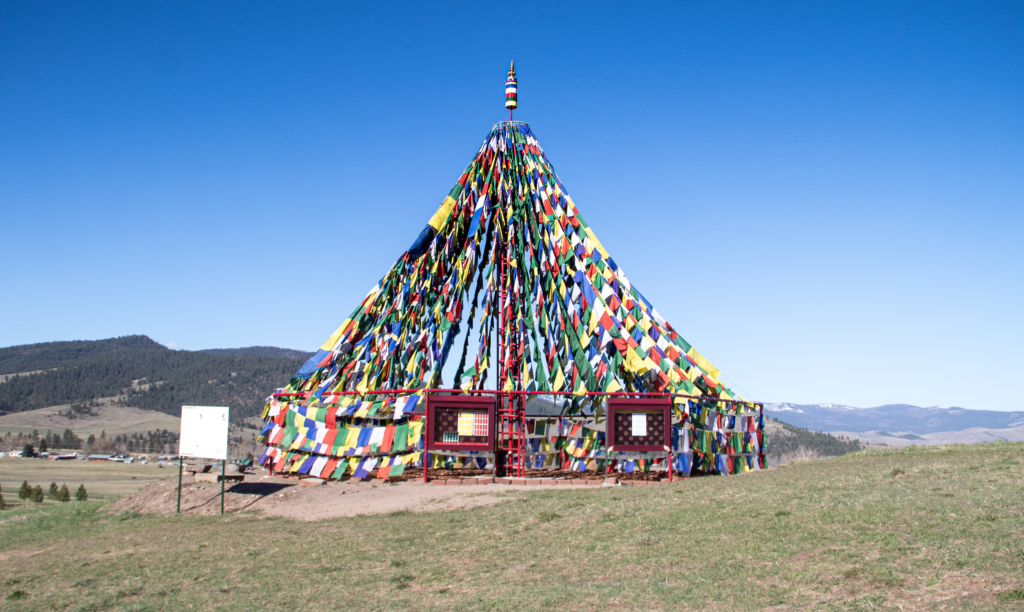 Fundraising for Spring Garden Maintenance
The Spring Garden of One Thousand Buddhas fundraiser for garden landscaping and road improvements is happening this month. One of the many delights of spring is enjoying the beautiful gardens at the Buddha Garden. Visitors from around the world come to experience and appreciate the one of a kind sacred landscapes and architecture at the garden. Join us in making these important improvements to the flower beds and repairing the roads for a great warm weather season ahead. For more information and to donate now, click on the button below.
Fundraising for Completing the Ewam Peace Pavilion
The Ewam Peace Pavilion is the newest addition to the garden's many buildings and sacred architectural monuments. This fundraising campaign is to accomplish the final phases of the pavilion's interior design and exterior finish. The pavilion is a place to hold Buddhist classes and retreats in addition to public and community events.
Your generous support of this project will not only bring greater meaning to our time but also for future generations. If you believe in the Garden of One Thousand Buddhas special mission of creating a public space to foster spiritual awareness, donate today. For more information and to donate now, click on the button below.