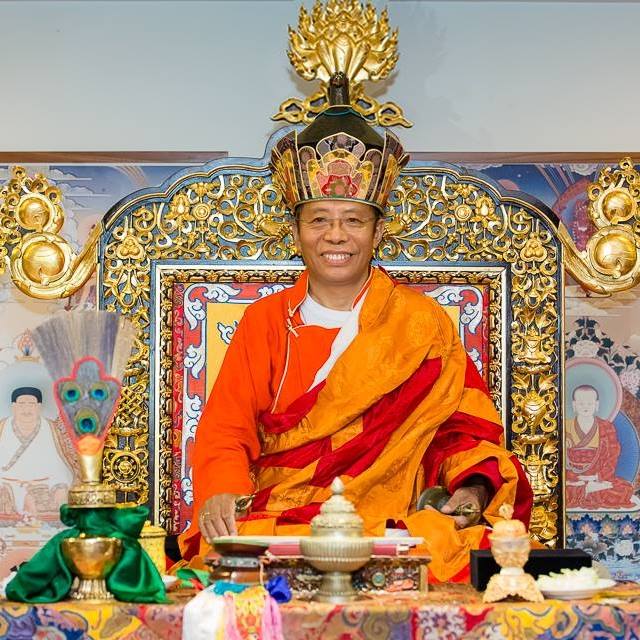 Rinpoche is the founder and spiritual director of Ewam International Centers around the world. Born into one of the oldest families in Tibet, which eventually came to be known under the name Namchak, or "sky iron," in an area called Chamdo in the Kham region of Tibet in 1952, Rinpoche was recognized in early childhood by the great rimé  lama [representing all traditions of Tibetan Buddhism], Jamyang Khyentse Chökyi Lodrö [1893-1959], as well as by the former Dzigar Kongtrul Rinpoche, to be the reincarnation of the Gochen Tulku. Gochen Tulku is an incarnation of Gyelwa Chokyang, one of the 25 heart disciples of Guru Rinpoche.
The third and fourth incarnations of great tertön Tsasum Lingpa were successively reborn into the Namchak family, which was responsible for maintaining the local monastery of Namchak Ritrö, the historical hermitage of Tsasum LIngpa, located in Chumbo. It was Tsasum Lingpa who first predicted and named the site for Gochen Monastery, which was then built by the first Gochen Tulku, Gyalwa Gyatso.
Rinpoche, an outstanding meditation master and scholar, is a lineage holder of the Namchak lineage and other profound and widely practiced lineages of Tibetan Buddhism. Rinpoche is also widely regarded as a master stupa builder. He has established Turquoise Leaf, a practice center for Tibetan nuns in Nepal and Silguri, India. Rinpoche's vision of a peace garden in a mountainous valley came to him as a small child; eventually leading him to Montana to build the Garden of One Thousand Buddhas, a sacred pilgrimage site and Buddhist center. His primary residence is in Santa Fe, New Mexico where he established a retreat and practice center, Pema Khandro Ling.